Dear Michelle Obama, Thanks for Ruining this 40-Year-Old Tradition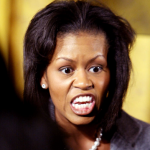 An Ohio school district is watching Michelle Obama's ridiculous food standards rob them of a 40-year-old tradition.
That's because Obama's "Smart Snacks in School" program has decided that Elyria schools are no longer allowed to serve their delicious pink cookies.
Listen how sad this is…
The pink cookies are made with a pound of butter, six cups of powdered sugar, and (believe it or not) a whole lot of love.
Michelle Obama doesn't think any of these ingredients belong in public schools.
According to a representative in the school, "[The cookie] no longer meets the national school lunch program guidelines for snacks," said Amy Higgins, the spokesperson for Elyria City Schools. "It has too many calories."
Smart Snacks in School mandates any snack a child enjoys needs to contain less than 200 calories. This requirement doesn't take into account a child's metabolic rate, size, or appetite. It's an arbitrary number that the government has decided is healthy.
What's infuriating is that the cookies are banned. The school is not allowed to sell them under any circumstances — even to parents who want to take them home.
"We can't have them in the cafeteria for sale, period," food services director Scott Teaman told The Chronicle Telegram. "The guidelines for snacks are very strict, and there is no wiggle room."
Townspeople are understandably upset.
"It's a tradition," Higgins said. "It's not only a tradition, it's one that tastes really, really good. You'd be surprised by how many people are upset about the pink cookie going away. Anyone who's gone to Elyria schools in the last 40 years knows the pink cookie."
There is plenty to be said in favor of eating healthy foods. And many Americans should be eating healthier than they are.
But to forbid a cookie from being sold to protect youngsters is just a little bit extreme, don't you think?
If a kid (or parent) wants to buy and eat a pink cookie with butter and sugar, then by all means they should be allowed to.
What's funny is if children want to satisfy their sweet tooth at school, it's easy enough to do. They can simply buy some sugar-laden yogurt at the cafeteria yogurt bar. Never mind that the calories and sugar in yogurt are similar to those in the cookie.
Sorry, kids. That's the way the cookie crumbles.
******
EDITOR'S NOTE: In light of the coming food crisis, one of our generous sponsors wants to teach you how to break free from depending on the fragile American food system.